The Cotswold Motor Group are a BMW and Mini retailer and have centres in Hereford, Cheltenham and a body shop in Tewksbury. The body shop carries out specialist services and repairs that require highly skilled workers. Attention to detail is vital and requires good lighting to be able to carry out work to the exacting standard of the company. This was a challenge with old-fashioned strip fluorescent lighting which performed inconsistently with around 30%-40% failing to work at all.
Anthony Cooper, the Group Aftersales Manager, manages the service repairs, body shop and is responsible for equipment and levels of maintenance throughout the sites. After approaching a variety of independent electricians for quotes and advice, he received conflicting opinions and solutions which were generally overpriced and inappropriate for businesses requirements.
Based on a recommendation, Anthony contacted SCI Management. He found they offered a flexible approach and a solution that was fit for purpose and cost-effective.
SCI Managements problem-solving skills and creative lighting solutions saved The Cotswold Motor Group £1000's in installation costs and ongoing electricity bills. As a result, SCI Management continues to work with The Cotswold Motor Group on all of their electrical needs and requirements, including lighting in other buildings.
Anthony Cooper, After Sales Manager at The Cotswold Motor Group.
"We need high-quality light to be able to do the precise work required to meet the group's high standards. Replacing bulbs or units was problematic due to the age and bespoke nature of the system.
I believe this is also the reason electricians seemed reluctant to quote for the work.
A couple of independent electricians whom we had worked with previously suggested ripping out our system and starting again. This seemed a radical and very expensive solution. We were also given conflicting advice which made things more confusing.
I contacted SCI Management who immediately took an interest in our business requirements. They listened to our issues and what we needed, taking the time to tailor a creative solution that was not only cost effective but provided us with the best lighting.
SCI Management suggested changing the units to new LED lighting. To be cost effective and meet our needs they recommended a solution and after the installation, measure the lux throughout the body shop and bring in additional units if needed. This approach helped us adapt to our requirements as we learned what lighting was necessary. Colours and tiles absorb light differently and every space has unique environmental conditions that can affect how we see the light. All our previous quotes seriously over specified the work with no consideration for budgets or actual requirements.
What we liked about SCI Management was the fact that they not only supplied the lighting but also did all the installation work. Many companies only offer the lighting units, meaning you then have to hire someone to do the installation.
Not only does this complicate the process, but it also means there is no accountability from either the supplier or the installer if issues arise.
SCI Management has excellent customer service, and it is easy to work with them. They have been extremely supportive and the entire team are pleasant and polite. They worked around us, ensuring my staff could continue with their daily tasks unhindered, organised the equipment for the engineers, turned up when they said they would and finished the installation on time.
The existing lighting system used approximately 43372.45 KW/H per year, and the new proposed system is 12644.5 KW/H per year.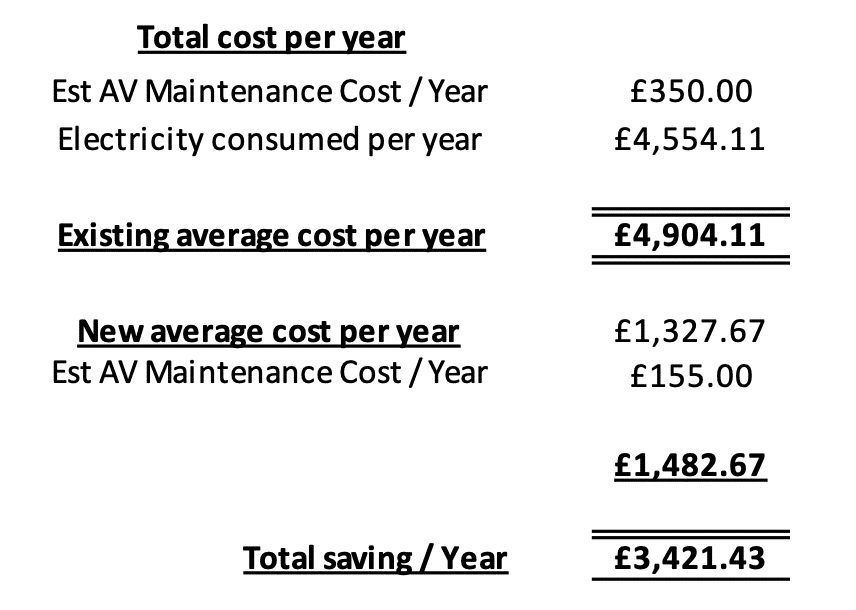 We now have half the units we were using before resulting in our power consumption dropping by half. Going from 100 fluorescent lights to a new efficient LED system has reduced our wattage to a fraction of what we had before, so there is a definite cost saving on our electricity bills.
During this process, I was trying to find someone with flexibility and who would be prepared to go that extra mile, which is why I am happy to recommend SCI Management to other businesses. If you are someone who needs a solution to a complicated lighting issue, then SCI Management is the right business for you as they seem to be very good at problem-solving and enjoy the challenge. They put the time and effort into designing a bespoke system to meet our requirements, and I am delighted with all the work they have done for us to date."
If you're looking for a reliable and efficient service to provide you with creative lighting solutions, give us a call! We're happy to offer you a free, no-obligation survey and quotation before you commit to any work. To find out more and to book, call us on 0800 849 8586 or email [email protected]