SCI Management is proud to announce that we have been awarded the City and Guilds Level 3 Award in Domestic, Commercial, and Industrial Electric Vehicle Charging Equipment Installation (2919-01). We know that the future of transportation is electric, and we are thrilled to be at the forefront of installing electric vehicle (EV) charging infrastructure across the country. This award is a testament to our commitment to providing top-tier EV charging installation services to our clients.
What is it?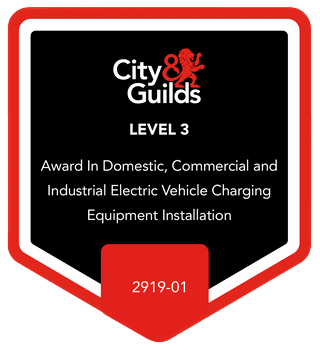 The City and Guilds Level 3 Award is a prestigious qualification that recognises our expertise in electric vehicle charging infrastructure installation. It attests that we can design, install and maintain electric vehicle charging equipment safely and efficiently in a wide range of environments, including domestic, commercial, and industrial settings.
Our experience
Our team at SCI Management has extensive experience in the electrical industry, making us well-equipped to handle EV charging equipment installation, maintenance, and repairs. Additionally, with this award, our technical expertise will be updated with the latest advancements in EV charging installation, allowing us to stay ahead of the curve with innovative solutions for our clients.
Electric vehicles are increasingly becoming popular, and EV charging infrastructure is critical in enabling this trend to succeed. The collaboration has become more common in the commercial sector in installations of EV chargers in various business premises. By achieving this prestigious City and Guilds Level 3 Award, SCI Management is now better positioned to offer clients in the industry some of the best quality services. The high-quality installation and maintenance services we offer are vital in creating safe and effective EV charging infrastructure, and ensuring proper integration of the power supply for EVs.
Our team can work flexibly and quickly, thus ensuring that our clients are satisfied with our services, and their EV charging infrastructure is installed and safe for use as soon as possible. We have the technical know-how to install electric vehicle charging stations that meet your needs, quality installations that are safe, effective, and follow industry standards, ensuring environmentally friendly solutions for your EV charging needs.
At SCI Management, we are committed to providing top-quality EV charging infrastructure installation and maintenance services to our clients. Being awarded the City and Guilds Level 3 Award is just one example of our commitment to excellence. We are excited to continue serving the electric vehicle community through our expertise and technical knowledge. We believe that by facilitating the growth of electric vehicle technology, we are helping to pave the way for a sustainable future. Visit our EV Charge Point page to learn more, and contact us today for all your EV charging infrastructure needs.